Original Moxie Is Coming To Kindred Curl!
Friday, March 15th
5:30—7:30pm
Come meet & greet the Original Moxie team and discover your Inner Curl with Original Moxie Founder Rachel Blistein. Using her unique 7-Point Assessment process, Rachel will provide step-by-step guidance in understanding your hair type and choosing hair care products that truly fit your natural texture. Tips and tricks will be provided to streamline your routine and keep your curls looking their best for longer. Enjoy light refreshments, receive swag and enter for a chance to win an Original Moxie Rise & Shine gift set ($65 gift set) or a Lucky Curls gift set($73 Value)! You must RSVP and drop in to win.
RSVP by March 10th to hello@kindredcurl.com or 412-798-CURL(2875).
---
Curl Power!
Monica came to Kindred Curl because, after battling her curls for a long time, she was ready to embrace her inner curly and needed a custom curly cut and help choosing and using products. She came in excited and ready to learn.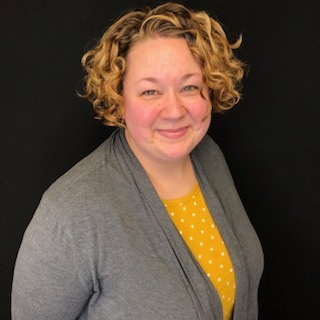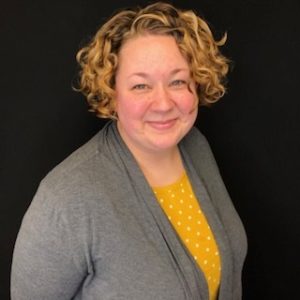 "I wanted to write back to let you know how happy I am!! Today was my first day trying to wash and style since my appointment. I was pretty nervous about my ability to replicate what you did but to my surprise I did awesome. It wasn't hard at all and did not take me forever either. I diffused it dry and could not believe how wonderful the curls were and how much bounce and volume I had. The products were great, and getting to touch my hair and feel the textures during my lesson really helped me know I was using the right amounts and it was feeling right. When in doubt I just used more water!
I had to run a few errands so I put a little makeup on and went out the door feeling fantastic!! Thank you so much!! I even got my first compliment which assured me that it really does look that great. Curl power!!" ~ Monica
We love hearing our client's stories! Do you have something you'd like to share with us? Send your story and a photo to hello@kindredcurl.com and we'll feature you in an upcoming newsletter.
---
Head Shape Matters Certification next month!
Head Shape Matters (HSM) is the world's first patented hair cutting system using math and formulas to create a cut that is specific to each client's head shape. Janaya is attending a 4 day class in April to be certified in this system. She has already taken the online HSM class in preparation for the live class that will take place right here in Pittsburgh! We look forward to the entire Kindred Curl team becoming HSM certified. Send love and positive vibes her way as she continues to prepare for her class!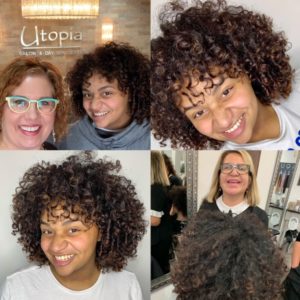 ---
First Rëzo certification in Pittsburgh!
Kelly is the very first certified Rëzo stylist here in the Pittsburgh area and she's thrilled to bring this cut that's meant to give body shape and volume to Kindred Curl. The brainchild of Nubia Suarez, a Rëzo is meant for all curl types. Pictured with Kelly is her model Brooklyn, a dancer originally from Houston. She was thrilled with her new Rëzo cut and style! If you are interested in a Rëzo cut and style, call us at 412-798-CURL (412-798-2875) for details or to schedule.
---
Product of the Month
Innersense I Create Waves
Create touchable, soft waves or bring lived-in curls back to life with Innersense I Create Waves spray. Rich in minerals and amethyst crystal, this unique, hydrating Pink Himalayan salt spray adds texture and volume while aloe vera imparts moisture. The reviews are in and all types of curlies are raving about the newest addition to the Innersesnse collection: "THIS is the product my hair has been waiting for my entire life!" Stop in to Kindred Curl or call 412-798-CURL (412-798-2875) for Bottle Service to get your own bottle of I Create Waves.
Sale Price 20% off: $20.80 ($26 reg.)