Tuesday July, 15,2014 we had another Curl Clinic for our curlies.
Lessons were taught, demo's were done, fun was had.
A thing that I have started and will continue to do at curl clinics is for people to go through their routine set- by minuscule step. This is always a great moment for newbies and veterans. I love to hear all of the nuance from how long to leave a plop in or how many pumps? Half pumps, or full pumps? Do you rub your hands the whole way together? Do you start in the front or the back? Do you do it in the tub? Do you diffuse first? How long? so many questions! I LOVE it! so many things to learn from each and everyone of us!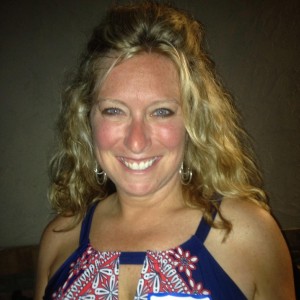 We started by selecting Megan as one of our models. I met her in January at a party of a friend and come to find out she is the sister of one of my good client friends. After having a couple of drinks at the wine party I opened my mouth and said "What are you doing with that hair?" I know what she was doing, she was blow frying it! Ugh! and not even all that great. She has multiple highlights, then blow drying everyday, working full time and running after her kids, and not knowing there is another way possible for her. Oh wait she does know, because her sister and her niece Ellie are my clients and have told her too.
Anyway fast forward to July 15 and she is now in my sink being doused with curly girl friendly products. We kept it basic for her. We used NoPoo, One Condition, Heaven in Hair, Ultra Defining Gel, Set it Free and some of the new Raw Curls Anti Frizz spray.
Her waves and curls turned out beautiful, she even exclaimed she looked younger. Many people look way younger once they embrace their curls. Megan bought her products and even went naturally curly for her reunion that weekend! She did her hair all by herself and it looked great!
Our other Model was one of my sisters former students who has been wearing her hair natural for a while now. She did her big chop a few years ago. She has only straightened hair with heat 2 times and has experienced some permanent heat damage on her ends from those 2 times. Victoria took her back to the sink and showed her how to use the No Poo then added One Condition and worked that threw with some water to allow the curls to form and then we let her dry under the dryer for a bit. Bailey even gave us a mini demo of a twist out.
Here are some scenes from the evening: