Kindred Curl grew out of owner Kelly Anker's "internet spiral" (aka Google rabbit hole) one night, over 10 years ago; already an established stylist and salon owner since 1997, Kelly was searching out information on curly hair cutting and dry cutting when she stumbled upon a whole new curly world! She felt her calling since that moment and she's been pursuing curly excellence ever since.
We're experienced but we keep things fresh. Our curly hair salon near Pittsburgh, Pennsylvania has the longevity and smoothness of an established business, combined with the freshness of young (and young-at-heart) stylists consistently infused with education and inspiration.
Kindred Curl is Pittsburgh's expert curly-hair salon experience...
friendly, authentic, and fun!
Our curly cuts are transformative. We cut dry, curl by curl, with unmatched attention to detail. Get ready to leave your curly self-hatred behind. We know your hair and how you feel about it can impact so much. When you put your curls in our care, we repay your trust by putting you on the path to healthier, bolder, more beautiful, more confident hair.
We've got the skills. All of our education goes into your cut. We use multiple techniques, our artistic eye, and your wants and needs to tailor your custom curly cut to your head shape, curl type, and style preferences. We are not practicing our skills on you, we are perfecting them.
We've got servants' hearts. We serve our clients with cheerfulness, gratitude, and a willingness to please. If you're not satisfied for any reason, we are committed to making it right.
At Kindred Curl, we work as a team. We want you to be free of the sales pressure typical to the old salon business model and we know that a more relaxed team makes for superior service. We make the dream work by paying our staff a fair living wage and offering a healthy work-life balance and a happy work environment.
Kindred Curl is committed to diversity and inclusivity. This isn't just a party line, it's our heart: the full spectrum of curls and their people are ALL welcome! And our prices are gender neutral, too; we charge by your hair, not by how you identify. 
We use organic products first and whenever possible. We love the Earth and we do our best to be conscious and realistic about what we can do to help our clients and the planet.
We also love animals. When you walk through our doors, you might be greeted by our salon dogs, Dax and Fifi. If you love animals, too, you can enjoy puppy cuddles while you get your hair done. If you don't, just give us a heads-up, and we will relocate them to their atelier during your appointment.
We know you have so many choices for where to get your hair done, but we know you'll love a salon where, after just one visit, everybody knows your name, your waves/curls/coils/kinks…and your quirks. We're here to make you look and feel good.
Thanks for choosing
Kindred Curl

and
showing your curls (and yourself) some love!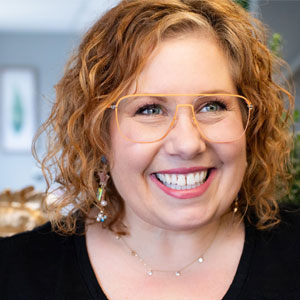 Kelly is Kindred Curl's Owner, Head Stylist, Dream Maker, and Fierce and Fearless Leader. She started the salon in 1997, but her heart for positivity and inclusivity was established long before that. For proof that public television changes hearts and minds: despite growing up in a not-very-diverse neighborhood, Kelly learned to notice and appreciate diversity and inclusivity by watching Sesame Street and Mr. Rodgers' Neighborhood; she dreamed of creating a space of her own where people from all walks of life could come together and feel welcome and comfortable.
Kelly's artistic background and creative personality combine with her formal education for wow-ing results! She is certified in Head Shape Matters, Original Moxie, Innersense Organic Beauty, Black Girl Curls, Cut it Kinky, and more… she is constantly furthering her education and training and is deeply committed to passing her styling knowledge on to her clients and her team. She also regularly hosts and teaches classes in the professional curly world.
Kelly is generous, insightful, hardworking, and hilarious. Her spirit animal is a kangaroo…because they have pockets and can pack a punch!
When she's not in the salon, she loves spending time with her cat and two dogs, marinating in her pool, creating and appreciating art, updating spaces, and exploring the outdoors… specifically, graffiti-ed abandoned buildings (without getting arrested!). She is a huge Bravo fan, and particularly loves watching Andy Cohen, the Real Housewives of…(anywhere!), and Below Deck.
We're excited to expand our team with a new stylist! Meghann Walsh recently made a big career change and joined Kelly behind the chair. Yes, this former incredible pastry chef is officially an apprentice!
We're having so much fun training, teaching and inspiring this curly beauty – and former client turned stylist. It's been incredibly gratifying watching Meghann's creativity bloom.⁠ Another set of skilled hands frees Kelly up to concentrate on specialized curl cuts, while Meghann works her magic at the bowl.
Already Meghann has mastered Original Moxie Moisture Detoxes and hosted our very first Teen Night. Look forward to more appointment openings and easier treatment-only bookings!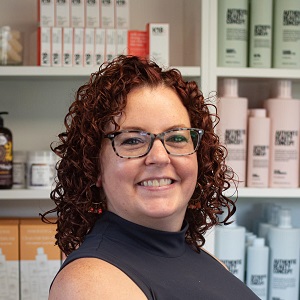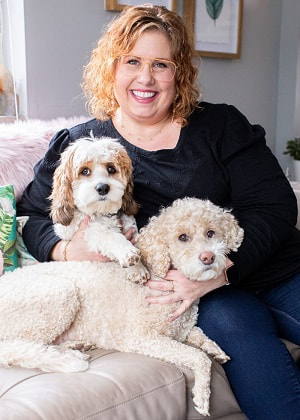 Daxton Harry, aka Dax, is a Goldendoodle born on June 14, 2016. He has a noble posture, lovely picture pose, and a pink nose. He is not a morning dog, but once he's up, he loves to play hard and snuggle harder (especially with our dog-loving clients). His guilty pleasure is a Starbucks Pupuccino.
Lady Fergie Tallulah Belle, aka FiFi, is a Cavapoo+ (DNA analysis pending) born on May 24, 2019. She is the youngest (and quietest) member on our team and has a demure, dreamy gaze. FiFi loves Starbucks Pupuccinos, sticks, and balls! Though she may seem shy when you meet her, play ball with her and she will love you fur-ever!
Helix the Cat is a middle-aged blue-eyed Sphynx. He is soft as velvet, a charming ladies' man, and can sometimes be found wearing sweaters over his svelte physique. As a youth, he nearly lost an eye; we're happy that he didn't…but if any cat could rock an eye patch, it would be Helix! His guilty pleasures include bonito flakes and getting a little too friendly under the dryers, if you let him! Although Helix is retired and spends most of his time at home now, he will occasionally make an appearance in the salon.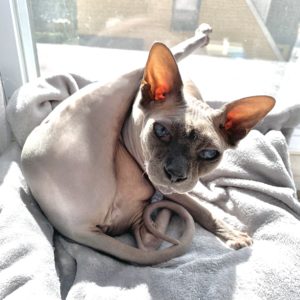 Join our monthly newsletter
Receive exclusive offers and discounts by joining our email list.