Tis the season to say "I Do" and that means we're talking a lot about curly wedding hair in the salon. We may be impartial, but we think there's nothing more elegant and beautiful than to see a bride or groom wear their curls in full glory on their wedding day.
With everything going on the day of, your curls are the last thing you need to stress over. As your curly hair coaches, it's our goal to empower, educate and enable you to do your own curly wedding hair. So whether you fully DIY your big day curls or get a little help, we know you can create the hair of your dreams to walk up the aisle with you! Here's 4 things to consider before the big day.
1. Picture-perfect curly wedding hair requires planning
Your ideal curly wedding hair doesn't happen the day of. Romantic, healthy, juicy, bouncy (insert your favorite adjective here) curls take time and tender loving care, just like a relationship. So for best results, put as much planning into your curls as you do the reception menu.
A few months ahead, take a two-pronged approach to perfecting your curly wedding hair: In salon and at home. First, talk to us. We can book you for regular Original Moxie Moisture Detoxes, Olaplex treatments and trims so we can gauge your curl health and fine tune your routine as the big day approaches. If you have a style in mind, we can help you experiment with curl-friendly products to get your there.
Secondly, at home, stick to curl-friendly cleansing, conditioning and styling products you're familiar with and keep up with your existing treatment routine.
Be like Amie and Cory. They're getting married in September, and while they're already an Innersense Organic Beauty family with an Original Moxie habit (they even use their products on their curly baby!), they're starting now with trims and shape ups.
And Sam says she's been clear with her stylist that she wants to feature her natural curl on the big day. "In the lead-up, I'm trying to be very gentle with my hair, not pulling it up as much, not using any hot styling tools, doing mini Olaplex treatments, etc."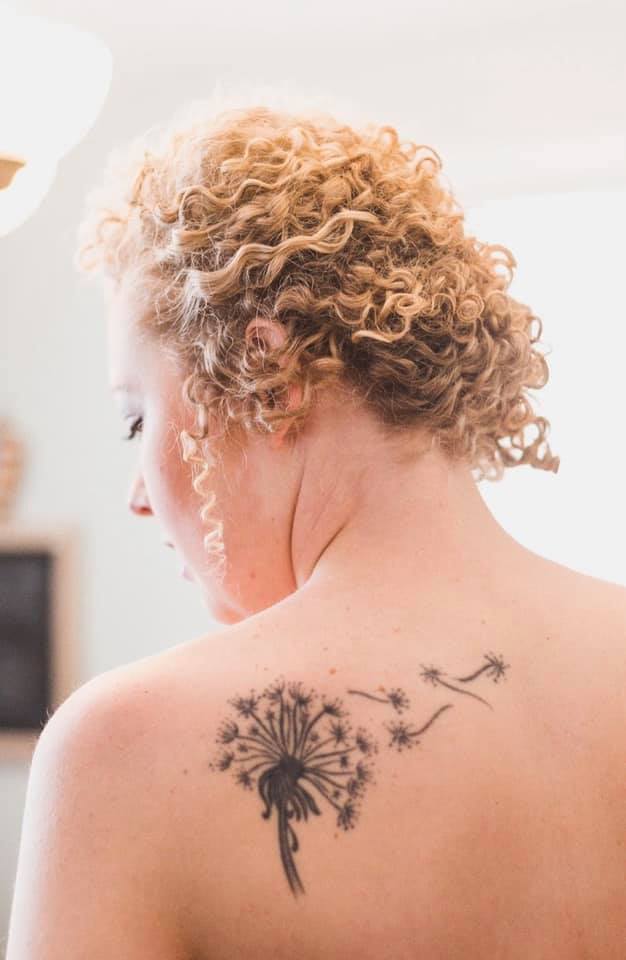 2. You can totally DIY curly wedding hair!
Your extensive curl education means you know your hair better than most brides/grooms know their own. Rain in the forecast? You know how your curls react to humidity. Hormonal? You got that down, too. No blowouts also mean no surprises. You know your curls so well, you know exactly how they'll behave.
The DIY route also allows you to splurge on your bridal/groom party. "I did my own hair the morning of and I had the stylist who was doing my bridesmaid hair just help me pin my curls in place. I was so happy with how it turned out and felt like me," Kimberly says.
Amie is going the same route. "I plan on styling my hair by myself but having it pinned up by the stylist that is doing the rest of my girls."
3. If You opt for a professional stylist, communicate ahead of time
Hiring a professional to style your curly wedding hair? Consult with stylists who specialize in styling formal, curly hair. Ask for pictures of their work on curls like yours, and even a dry run to avoid surprises. And as you know your curls best, communicate your wants ahead of your big day.
Maggie suggests being clear from the second you connect with a salon or stylist. No brushing or straightening and no combing out of curls (nightmare). The morning of, she reminded her stylist again that brush outs were forbidden, and shared a Pinterest board of curly wedding hair styles she loved.
"I had someone else do it because I didn't need the stress on my life, but my biggest tip is to be VERY clear from the initial phone call that you'll be using your natural curl. I've shown up to hair appointments, curls poppin, only to have them brushed out and re-curled."
"My hair was definitely finger combed for added texture but they didn't take a round brush to it or anything. I was watching!"
4. Your curly wedding hair will be gorgeous, no matter how you go about it
You've invested time and money into your curl education, and your relationship with your curls is a healthy one. So relax, stay focused on your hair health, and let intuition guide you on the rest. That's what Tina is doing. "I'm still up on the air at this point but am currently in the process of getting my curls ready and paying close attention to what works for my hair and what doesn't.
"Definitely doing it curly, just not sure how yet. Was kind of thinking of doing it down and then doing something boho after the ceremony."
Now you're ready to walk up the aisle with your curls!
You've already put a ring on your curls (all that education!), so rely on that training for the big day. We wish you lots of luck, and gorgeous wedding day curls, we absolutely know that you can do it! We can't wait to see the pics and hear how you said "I Do" to your wedding day curls. Tag us on Instagram, share your pics to Facebook or email them to us at hello@kindredcurl.com.
A final thank you to members of the Kindred Curl Group on Facebook, who shared their wedding hair experiences with us! Not a member yet? Whether you're a current client or just interested in curly hair tips, product previews and convos, we'd love for you to join us.