Did you know that before we sell or recommend any product to you, our team puts it through its paces first? We like to have first-hand experience with everything on our shelves…and honestly, product testing is one of our favorite job perks!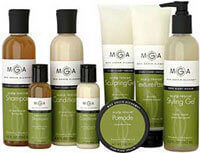 We recently made room for a new addition (and it's not another animal…alas!). Our first featured products of 2020 come from the Max Green Alchemy line.
Max Green Alchemy started their line of personal care products in 2004, out of a desire to give consumers environmentally-clean products that felt rich and luxurious to use. Their organic products are free of petrochemicals, GMOs, lanolin, parabens, sulfates, and are also cruelty-free and certified vegan. They've been getting rave reviews from clients who have already tried them and been recently featured in Curl Magazine. You can feel great about using Max Green Alchemy on all fronts.
What our team loves about the MGA line is its mission, its scent (it's very clean- citrusy, herbally, and earthy), its effectiveness, and the way their gels vary from the others in our stockpile (*ahem* storeroom).
We currently carry MGA's Scalp Rescue Styling Gel, Scalp Rescue Sculpting Gel, and Scalp Rescue Smoothing Balm.
Join us in welcoming MGA to the Kindred Curl family and read on to learn more about how these products can fit into your curly hair routine…







Looking for flexible hold and flawless frizz protection? Max Green Alchemy's Scalp Rescue Styling Gel offers plant-derived styling power to help keep your curls soft, beautiful, shiny, and frizz-free! It's color-safe, gluten-free, and perfect for those with sensitive skin. (Retail $15/ 8 oz, $53/32oz)








Need a little bit more hold in your world? Max Green Alchemy's Scalp Rescue Sculpting Gel might be your new talisman against bad hair days! It's billed as a nature-made anti-gravity formula to keep you looking good through any weather and multiple days between washes. And in spite of being tough when it comes to hold, it's gentle enough for daily use by even the most sensitive scalps. (Retail $18)









Looking for a little balm that goes a long way? Infused with argan, macadamia, and coconut oils, Max Green Alchemy's Scalp Rescue Smoothing Balm helps you refresh, fight frizz, and add manageability and shine. Just a little dab can make a big difference! (Retail $20)



So come in and try something new! We've got free samples for you to try, and ALL Max Green Alchemy products are 20% off through January 2020.

As always, if you need some guidance tailored to your particular curls, just call us at 412-798-CURL (412-798-2875) or email us (hello@kindredcurl.com) for recommendations. You can also ask other clients about what curly products they use and recommend on our private Kindred Curl FB group.