As some of you know that follow the curly world you know that since October of 2013 Curly Hair Artistry has been having biannual Symposiums. As one of the original core members of CHA (as we affectionately call our group) it was my pleasure to hold the first official mini training outside of a symposium at Kelly Elaine Inc. CHA is an online community of Curly Hair Artist founded by Scott Musgrave. We are a global group based on participation and passion, not just numbers. You must have passion and a team sense in order to be a member. We gather online daily and share info and give support to each other from on all aspects of curly hair and business! Members are from all corners of the Earth and growing. United States has the most members but we also have members in England, Italy, Australia, Canada and even Newfoundland and we are growing!
Curly Hair Artistry members came in for training with Scott Musgrave founder of Curly Hair Artistry and Greg Starkman creator of Innersense Organics from all over the United States and Canada at Kelly Elaine Inc. to learn about Innersense hair care line and get a peak at Curly Hair Artistry techniques. One may be interested in knowing that Innersense is not just a curly hair line in fact it never started out as a curly hair line. A CHA member Beverly Turner discovered the line and brought small sample packets to our Detroit 2014 Symposium (Heart of a Curly) for us to try. The reason she brought it is because Innersense Organics philosophy on their ingredients happens to line up with our core belief of our products we recommend. Our philosophy follows the curly girl method established by Lorraine Massey are using products free of silicone, paraben and sulphates. (Innersense is free of a whole bunch of other things and so full of a bunch of other goodness but that is a whole different blog post for another day.) CHA members started to try it on ourselves and then started to experiment it in our salons and BOOM a whole new partnership has opened up to to CHA and Innersense!
We started out the session with a warm welcome, some are now old friends and have become like family, others are new to us and it was our first time welcoming them into this part of the curly world. It is so exciting to see everyone anticipation on their faces in the morning of an event.
Greg educated us on the different aspects of the organic world, the purity of Innersense ingredients, product usage, detoxing and how the line is made. We learned about how Innersense started. Ask your stylist, it's a good story. We also heard about how they have CHOSE to dump a WHOLE vat of Quiet Calm because the ingredient shea moisture in this particular batch was compromised and curdled. In the chemistry world of hair care products there are ways that Greg and Joanne could have added ingredients to make that batch  acceptable to be distributed to the public but Innersense standards will not be compromised!  The whole batch was dumped- and believe me as a salon introducing a new line to the public we were BEGGING for our Quiet Calm! There were also hints of new products in the making, but my lips are sealed like a beautiful shiny curl with Harmonic healing oil!
Scott Musgrave of was our next educator. Scott demonstrated his Cubist Curl Cut and MAP method of product application using Innersense Organics on our model Ashley Cannon.
We had over 15 models in our salon along with the large number of CHA and educators. It made for a cozy day in our salon that only has 6 stations. All different curl types are represented among our models. Innersense makes swavy-wavys springier and bouncier and even our natural 4c girls find definition and POP they have been searching for. CHA members make all curl types happy with the proper application and combo of Innersense. Squishing, roping, raking, gliding, scrunching, water oh my! Diffusing, plopping, spraying, shaking clipping, you name it we did it!  We try all kinds of things when we are in a class. Sometimes we don't get a chance to try something in our chairs because we need the wow factor for our guests but in our classes we can always go for it and we find the new way to get the WOW!
Innersense and Curly Hair Artistry are fast growing and I am proud to be on their teams. It was our pleasure to host this collaboration. We know our models guests and educators left with a little more knowledge and love which is always our goal.
Please visit these websites for more info and check for a salon or Curly Hair Artist in your area.
Innersense Organics by Greg and Joanne Starkman: https://www.innersensebeauty.com/
Curly Hair Artistry http://www.curlyhairartistry.com/
All photos unless otherwise noted are from Beth Kukucka of www.BethKPhoto.com/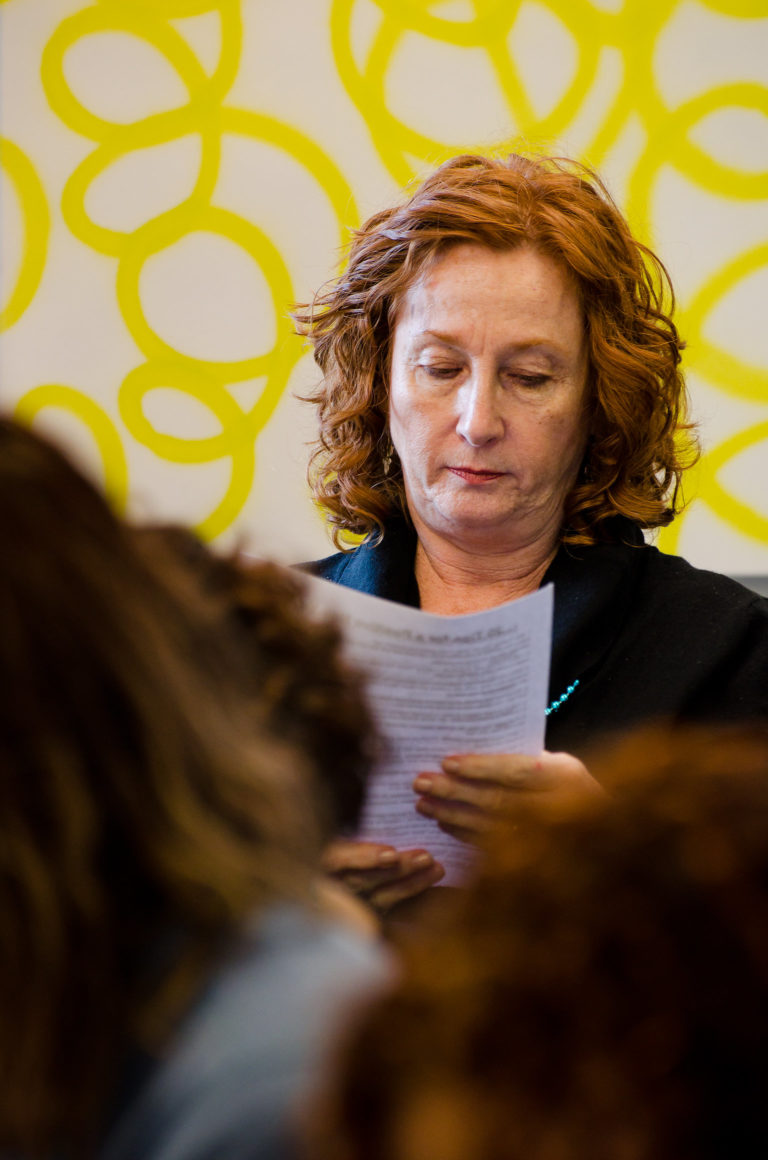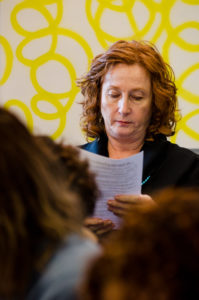 Cindy McFarland CHA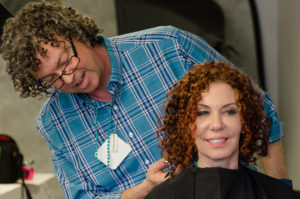 Scott Musgrave doing a little touch up on Debbi Burns curls.