V-A-C-A-T-I-O-N!
According to the US Travel Association and the AAA Travel Survey in 2018:
52% of Americans had UNUSED vacation time.
212 MILLION (out of 715 Million awarded) vacation days went FORFEITED.
Travelers in the South are more likely to be making plans for a family trip (62%) than travelers in the Northeast (35%).
What about YOU!? Are YOU Going on vacation?
How are you planning to care for your curls while road-tripping or flying?! Check out our helpful list below to make your curls POP this summer while either staying at home or soaking in the sun!
Sample Sizes for Travel
Did you know that Kindred Curl has SAMPLES of products!?! Yes! You can stop in or ask at your next appointment. Samples make GREAT travel companions because who likes packing up those tiny little 3 oz bottles!?! NO ONE!
---
Sun bleaching your hair out?
Are you having flashbacks of "Sun-In" ala the 90's? A buff can protect your hair from the Sun's harmful rays! Especially if you have color (or highlights/Pintura) applied to your hair, the sun will likely distort the original color of
your hair. Wearing a head covering, like a BUFF can help!
---
Home water vs Vacation water.
The water of your vacation spot has a HUGE effect on your hair routine! Don't get frustrated if it's a little different than your home water. Simple, small adjustments in your routine can help combat changing factors while traveling.
Try using a little less of something you usually use, or a little more of something else.
Try leaving a tiny bit of your conditioner in your hair (if you usually do a 100% rinse) or rinse it completely out (if you normally leave some in).
---
Humidity.
Is Frizz an "F" word to you? Remember, frizz is just a curl waiting to happen. Frizz is actually your hair reaching out into the atmosphere (like how a plant grows towards the sun) for water. It likely means you need some more moisture. Also, a little frizz can be OK! We call it functional frizz, Embrace it!
We find that MOST of our clients are NOT spending enough time on conditioner in the shower. You can't just slap the product on your head and wait while you shave and wash and expect frizz free beautiful curls! You've got to WORK the conditioner INTO the hair! Use your hand like a comb and really slick down that conditioner into each section.
A wet brush helps gather curls together and start the curl groups. It also obviously detangles and helps get rid of any hair you're naturally shedding.
Try singing the "Happy Birthday" song FOUR TIMES while you work conditioner into your hair. YES! That's how long your hands should be in your hair while conditioner is on!
---
Get creative with styles.
We know – sometimes it's just too hot to wear your hair down. Have you experimented with bobby pins, clips, headbands, scrunchies, etc.? There are tons of fun ideas on Pinterest or curly hair updos that can be very simple but help with the summer heat or even 2nd, 3rd (4th…5th…) day hairstyles!
---
Products.
Try a new product for the summer months/vacation time. We love:
Innersense Sea Salt Spray for getting beach waves all summer long. Try spritzing it just after you get out of the ocean!
Conditioner. Try carrying a small amount in your beach bag…make your own leave-in conditioner by mixing a small amount with water in a spray bottle!
Olaplex. Try deep conditioning while you nap in the sand!
AG Naturals Remedy. It's great for refreshing curls and has Apple Cider Vinegar to encourage shine!
---
We want to see your summer curls! Tag your photos on Instagram with the hashtag: #KindredCurlTM to be featured on our account! Don't follow Kindred Curl on Instagram? Let's change that! Click here!
Client Spotlight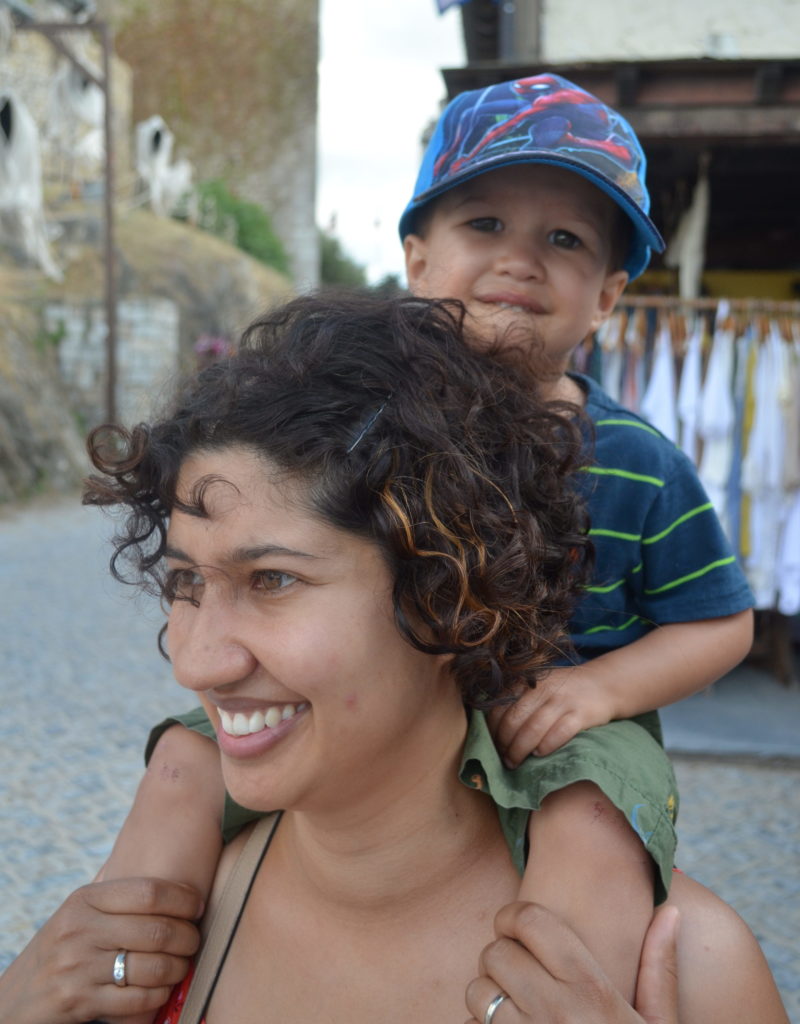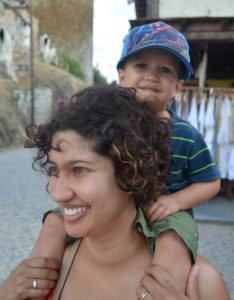 Louise D'Cruz is originally from Ireland and moved to the US 12 years ago. She discovered her curly hair in her teens. She kept her hair very short (Mama made her!), and even wrote a letter to the tooth fairy asking her to make her hair to grow instead of the money!
Five years ago, when I moved to Pittsburgh, I discovered Kindred Curl. Kelly and Janaya have really helped my curls, especially dealing with thin, postpartum hair. I've loved that Kindred Curl has helped me to experiment with my hair; I've tried bangs, highlights, long hair and pretty short hair. The journey has been a blast and I look forward to many years to come. Thanks guys!
As a working mom with two small kids, I try to keep my routine pretty streamlined. I wash and condition using Innersense Color Awakening Hairbath and Pure Inspiration Daily Conditioner.
Louise's favorite Hair tip: While I'm still in the shower, I flip my hair over, add a little Original Moxie Pop Life Volumizing Mousse, scrunch and then add a dollop of Innersense I Create Hold and blot my hair with a microfiber towel. And that's pretty much it!
Oh Won't You Be…My Neighbor?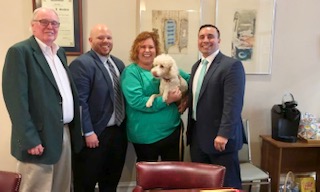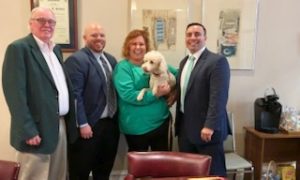 Kelly purchased the salon! After 26 years of renting the space, it is finally ALL HERS! (cue Beyonce: "If you like it, then you shoulda put a deed on it…")
Kelly is PROUD to have been born, raised and started a business in Pittsburgh and to say she owns a tiny little piece of this wonderful community brings her great joy. Owning the building is a landmark personally and professionally! Over the years, the salon has donned many names (LA Hair, Kelly Elaine Inc, and now Kindred Curl), has seen many a hair-cutting technique, many employees come and go…but through it all and at the center of it, has been Kelly…slowly climbing, slowly growing, and ever-transforming into the best version of herself and her business to bring her clients the best of the best.
Owning the building also means that Kindred Curl can now improve it the way that we've always envisioned! Owning the building creates a sense of permanence of Kindred Curl in the Penn Hills community. Owning the salon is truly a landmark in this ever-continuing metamorphosis…and…ok we're going to stop crying now. Owning the building is just dang cool so bring on HG TV, Pinterest, Home Goods shopping trips and more.
Many thanks to the Kindred Curl friends, family, and clients who've made this experience not only possible but enjoyable. Love Yinz!
Product of the Month – ALL (at home) Malibu Treatments!
In the spirit of summer and beach vacations, all Malibu products are 20% off in July!
Kindred Curl is proud to carry Malibu products! What is Malibu? Glad you asked!

The core of Malibu C's Wellness Beauty Collection is a selection of customized Wellness Hair Care Remedies which are 100% vegan, cruelty-free and formulated without gluten, parabens, sulfates, preservative and fragrances, and made in Malibu C's Wellness Labs in the United States. These patented Wellness Remedies feature Malibu C's freshly-activated crystallized vitamin complex of nature-inspired Ascorbic Acid (Vitamin C) in the purest, most potent form that is freshly-activated by the user for optimum results and benefits.

We've got a wide array of products for you to check out! Read on for our suggestions!
Try a PACKET to shake up your curl routine at home!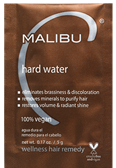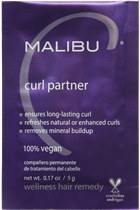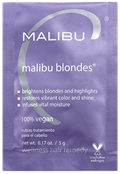 Un-Do-Goo Shampoo is good for anyone who uses the occasional illegal hairspray. Honestly, even the natural products can build up on hair and need to be detoxed the heck outta there every once in a while!
Hard Water Wellness shampoo or packet is great for EVERYONE. This helps remove any minerals that can cause discoloration and weigh your curls down.
Malibu Blondes shampoo or packet is a MUST for any natural or Pintura-made blonde! It keeps that blonde looking bright and not brassy.
Do you love to swim? Got a kid who swims? Swimmer's Wellness Shampoo is great to remove the harsh chlorine chemicals and restore hair's natural beauty.
We love picking a day and choosing to have a regular (weekly, biweekly, monthly – depending on your curl needs/lifestyle) committing to a HAIR DETOX. We use one of our Malibu treatments, and then sleep in Olaplex. While you're at it, throw on a facial mask! #SelfCareSunday anyone? Shaking up your routine like this every month can make a HUGE difference to your overall hair health and totally transform how your hair styles on a regular basis!
Black Girl Curl Education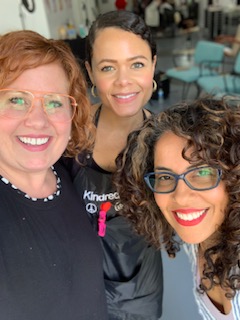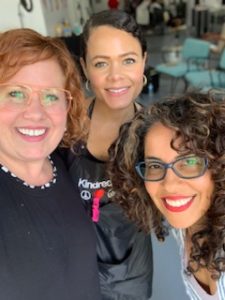 Kelly and Janaya took a trip to the WINDY CITY to meet Aeleise + Aishia of BlackCurlMagic.com and had a 3 day training/certification specifically related to highly textured hair. Kelly and Janaya met curlfriend Amanda Rickman from Australia (website here! , was able to catch up with Alicia Torrens from Tampa and met met Mama Fresh (website here!), an instagram influencer, and other top instagram influencers!

So what is BlackCurlMagic all about?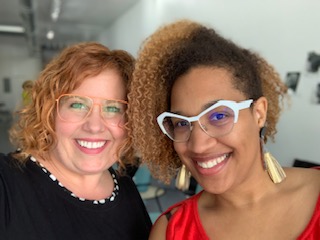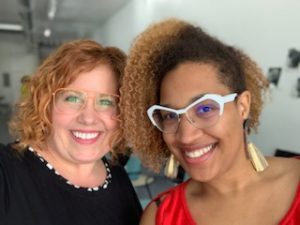 From BlackCurlMagic.com:
Over the last three years of working with tightly curly haired women around the country, we have come to the conclusion that there is desperate need for more licensed tight curl specialists. Potential Clients are driving across state lines and flying across the country seeking knowledgeable and trusted professionals to partner with. They're bypassing thousands of local salons, in order to get the care they need. This is insane right?! Our goal in 2019 and beyond is to share the information and insights we have gleaned from working digitally and personally with thousands of tight curly clients.
Some fun tidbits of the training:
Observed cuts from a 3D perspective
Learned long term styling techniques for highly textured hair
Experimented with different product application techniques
Kindred Curl is passionate about not only offering the best services we can to our clients but also growing and diversifying our clientele. We are FOR YOU, yes YOU! YOU are welcome and we can help YOU! We are pumped to bring this education back to Kindred Curl. Please ask us about it the next time you're in!