Dax Turns 21 and YOU SAVE 20%!
Our favorite curly haired goldendoodle, Dax (full name: Daxton Harry), is turning 21 (in dog years, 3 in people years)! Raise a paw for Dax!
Join us in celebrating with 20% off all products on June 22! This is one of our biggest sales of the year, second only to our HUGE blow-out holiday sale! Stock up on curly hair care!! Receive a FREE Glow with an AG purchase of $75 or more (a $28 value). A portion of all proceeds from Dax's Bark-Day Sale will go to Jeremiah's Place, Pittsburgh's only crisis nursery. Pre-orders start June 11 (you can call or email the salon!). Orders must be picked up or shipped by July 13th.
In honor of Dax's birthday we are also bringing out the WHEEL. OF. CURLS!
If you make a curly hair care purchase of $50 or more the week of Dax's Birthday (June 18th-22nd) you can spin to win any number of goodies like: Signature microfiber towel, Original Moxie Mini, Detox Packet, a coupon for a future service, a holographic scrunchie… AND MORE!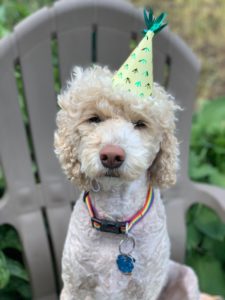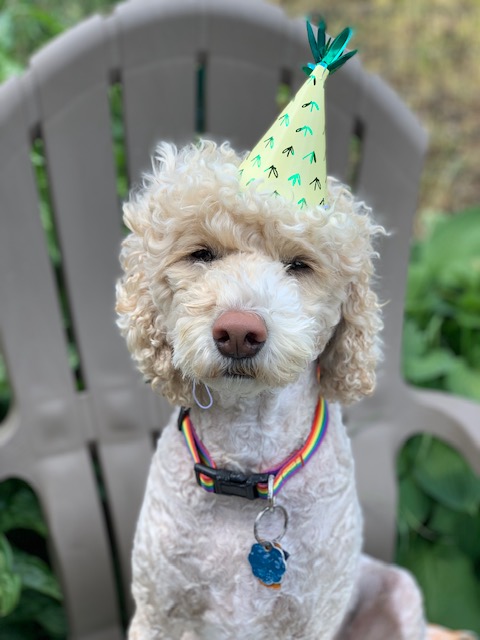 You can also stop by or call in to to purchase a raffle ticket (1=$5, 3=$10). One lucky curly-girl will win a Kindred Curl Gift Card of $100, an Innersense Organic Beauty Prize Pack (4 retail size products), an Innersense Luxury Travel Bag and an Insulated Kindred Curl Glitter Cup! Total prize value: $250! 100% of proceeds of the raffle will be donated to Jeremiah's Place.

Kelly is (almost) Back!
As many of you know, Kelly had her shoulder operated on in March. It's a LONG recovery process but she's getting GLOWING reports from her Physical Therapist and Doctor.
Kelly should be returning to the chair full time in July, but if you stop into the salon in June you may catch a glimpse of her with scissors in hand!
Once again, we appreciate everyone who's been willing to move appointments and/or put their trust in Janaya while Kelly recovers. A huge round of applause to Danielle, our chaos…ahem…Salon Manager who has kept the appointment book in check in this crazy time, and has even offered to hold Janaya's sandwich while she cuts hair (…we're only partly kidding here. A girl's gotta have her snacks in order to cut hair with enough energy!)
We are proud to have the best curl team in Western PA, and we know that goes hand in hand with the best curl-clients! Thank you to the Kindred Curl Team, including both staff and clients. We love you!
You know that we love education…but education doesn't always look like a conference, class or webinar….education can happen any day at Kindred Curl! Because Kelly stepped away to heal after surgery, Danielle and Janaya have had to learn portions of each others job to continue to deliver world class service to our clients. Essentially, they've had to rotate jobs and cross train…all without batting an eyelash and bringing exceptional service to our guests!
Job rotation is not just a tool for employee development, but a tool for increasing organizational performance through innovation and collaboration.
What does all this mean for you, our curly-clients and fans? It means that you've got a more well-rounded Kindred Curl Team, and when Kelly comes back full time…they will be an even greater force to be reckoned with!

Client Testimonial
Violeta Garcia-Mendoza has been a client at Kindred Curl since October 2018. She homeschools her 3 kids, is a dog lover and a photographer. Check out her photography here and her blog here.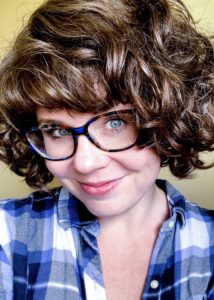 "I 'social media stalked' Kindred Curl for a while before getting up the courage to call. Before that, I'd had so many meh-to-awful cuts that I'd been cutting my hair myself for 4 years. I didn't have any sense of confidence in my curls, and I had been straightening (aka damaging) them for years too. But minutes into my first visit, Danielle, Janaya, Kelly and (of course) Dax and Helix put me immediately at ease. There is something so special about Kindred Curl's community that makes it comfortable and fun for introverts (like me) and extroverts alike. I really appreciate how Kelly and Janaya combine technique and art in what they do. My hair has never been healthier or curlier, and it's so incredible to have something I felt self-conscious about become one of my favorite features. I can't wait to see how my hair continues to evolve!"
Violeta's Tip: "When styling with gel, the praying hands method encourages my s'waves more than the rake and shake method. I get clumpier, juicier curls."