In honor of Meghann Walsh hitting a huge milestone – her 2000 apprenticeship hours – we're looking at all the ways our favorite salon apprentice ever is cutting it up and shaping an incredible career out of her love for curls! Here are a few of our faves: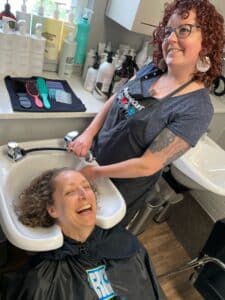 From Pastry Chef to Salon Apprentice
Yes, Meghann made a huge career change! From revered pastry chef and beloved client to a fresh new talent behind the chair, Meghann took a huge gamble leaving her career – literally – on the butcher block! And we love her for it!
"You Complete Me"
It may be the cheesiest line ever, but Meghann arrived just in time for the salon's post pandemic revival. Her extra set of hands freed Kelly up to concentrate on specialized curl cuts, while Meghann worked her magic at the bowl. There were a lot of haircuts to catch up with! Right off the bat, our salon apprentice mastered Original Moxie Moisture Detoxes. She also hosted our first-ever Teen Night!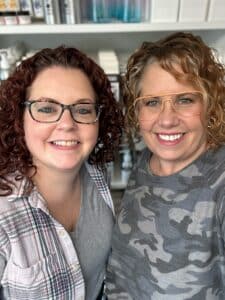 Female Owned and Female Perfected
Two passionate minds growing together! Meghann's arrival as a salon apprentice put the exclamation point on ALL of our core salon values: Female owned.⁠ Mission-based.⁠ Organics first.⁠ Gender neutral.⁠ Sustainably-Driven.⁠ Curly/Swavy/Coily.⁠
Our Salon Apprentice Is Comfy Behind the Camera!
Give her a topic and she rolls with it! She explained how important it is to add water to your hair and talked to us all about Witch I love Your Hair. She also helped deck the halls with fresh new hair color for the holidays!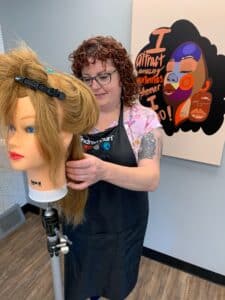 She's A Quick Study
And that's good, because our salon apprentice has lots more studying to do. Right away, Meghann grabbed all the PK (product knowledge) she could get from your favorite curly hair brands, like Innersense Organic Beauty, Original Moxie, K18 and more. Now she has to log more hands on cutting practice and then go for her state boards. Good thing we gave her a set of rotating Sharkfin Shears to celebrate!
The Kiddos and the Puppies Swoon Over Her
Seriously, what's not to love?
We're Grateful for Meghann!
We are so proud of Meghann and grateful she took that gamble (although we'll never let her drop those pastry chef skills). Please join us in congratulating Meghann on this huge accomplishment! Drop a remark on our 'Gram, share a review on Google, or post a sweet comment on our Facebook page.